I CANNOT START my day without a cup of delicious coffee. The Coffee Break consistently delivers outstanding specialty drinks, a filling breakfast, amazing lunch options, and a plethora of pastries. The Coffee Break is a hidden gem within Shelbyville, and next to their food, the atmosphere is outstanding. You will always feel welcome and cozy with the smell of coffee wafting through the air, exposed brick walls, string lights, and balcony seating.
I didn't have time to make coffee at home on this particular Saturday, and I needed some good food to start my day. I ordered the hungry farmer special, which consisted of scrambled eggs, hashbrowns, bacon, and four slices of toast. Unable to help myself, I also ordered a single pancake for some sweetness. Faced with the tough decision of what to drink, I ordered two: a white chocolate mocha and a caramel latte.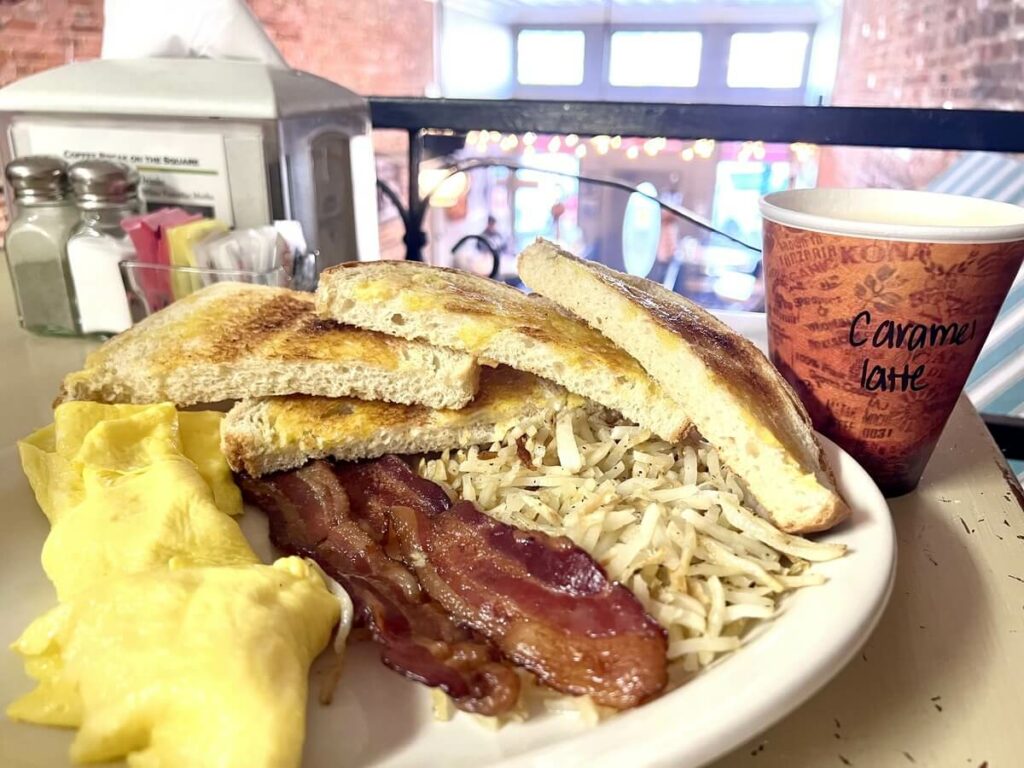 Reader beware, their pancakes are giant, fluffy, and highly addicting. The hashbrowns were perfectly cooked with great color on them. The bacon was thick-cut and had the perfect balance of chewy and crispy. The toast came with four large slices with butter on them. And this may sound silly, but I was impressed by the plating of my scrambled eggs. They were scrambled to perfection, twisted into themselves, and laid softly on the plate. You can taste the care and love in every dish that comes from the kitchen. The white chocolate mocha was easily my favorite part of breakfast. Creamy, warm, and sweet. You can taste the white chocolate in every sip as it warms you on a cold day. The caramel latte was just as good, with a more robust coffee flavor and a kiss of caramel with each drink.
Whether you need to meet up with friends, work on a project or just need an amazing breakfast, come to The Coffee Break and be teleported into what feels like a coffee shop from a Hallmark movie. Follow along on Facebook as they offer daily specials, and keep an eye out for their monthly menu to plan for some of the best breakfast or lunch in town. GN