HAVE YOU helped to break the Bedford County United Way record for "Stuff the Bus" items donated? In 2020 they had over 25,000 school supplies donated to help local students start the school year right. This included a wide variety of packages including crayons, pens, backpacks, glue, paper, notebooks, and more.
There have been drop-off locations in many local banks and businesses for the last few weeks. Then, on Saturday, July 17 in the Shelbyville Walmart parking lot, there was an actual bus being stuffed with school supplies. The people of Bedford County were so generous, nearly three-quarters of the seats were filled by the end of the day and financial donations were twice what they have been.
Retired teachers were particularly happy to contribute. They remember using their own funds to supply children with necessary school supplies and want to support today's students and teachers.
Imagine being in elementary school and your parents have a challenge making ends meet. The list of school supplies strains an already tight budget and your parents tell you they can't get everything on the list. You'll need to borrow from other students or do without. You see your parents working hard to keep the car running, the rent paid, and to find a few extra dollars for birthday gifts or a weekend camping trip.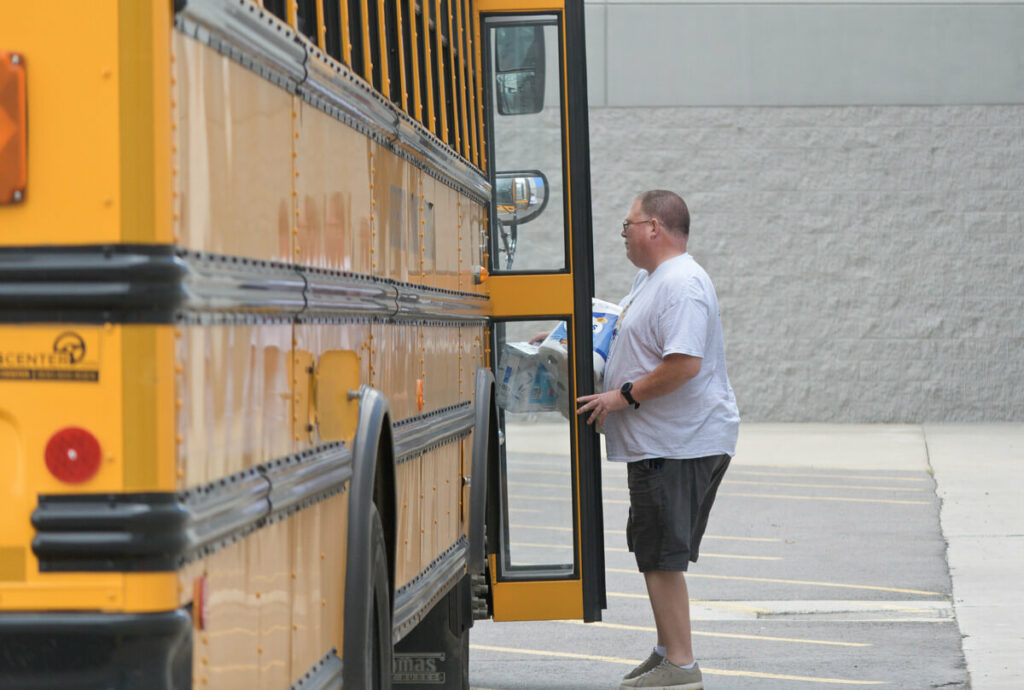 According to United for Alice, 48% of all households in Bedford County are struggling to make ends meet and pay for essential services. These are neighbors and community members who you may not even realize are struggling with their bills.
The United Way measures cost of living through their ALICE Essentials Index. They research six categories of cost of living including housing, childcare and education, food, healthcare, transportation, and technology. ALICE stands for Asset Limited, Income Constrained, Employed.
Stuff the Bus donations lighten some of the burden on ALICE families. Items are collected from the drop-off locations and the school bus.Then the huge job of compiling and sorting the donations begins. The United Way team communicates with each of the schools to find out their needs and packs a custom order for them.
Financial donations help to fill in any gaps between actual donations and what the schools need. Each year it varies slightly. By far, the greatest need is for new backpacks.
While the physical fun of Stuff the Bus has been completed for 2021, the need for ongoing donations continues. Check donations may be mailed to United Way Bedford County, PO Box 1438, Shelbyville, TN 37162. Write "School Supplies" in the memo line to make sure it is earmarked for that need.
The United Way of Bedford County would like to thank the individuals, volunteers, and business community who have helped to start students on the right foot for the new school year. Special thanks go to Transportation Director, Kenny Parker, who drops off and picks up the bus each year. His flexibility and reliability are appreciated by Mark McGee, Bedford County's United Way Executive Director. Josten's, the manufacturer of school memorabilia, generously supplies the sorting and packing team with the many boxes that are needed to organize the supplies. -GN