FOR 14 years, he smiled back at customers from behind the meat coolers at Dial's Supermarket, happy in his work there until the day he believes the Lord dropped the dream of a Christian bookstore into his heart. He still loved the customers but was discontent with his work. His thoughts were continually Interrupted by the bookstore he imagined.
An insurance job and time in diesel college did nothing to squash the vision or silence the calling. Dennis Lovvorn got the word before his wife, Andrea, did. She said, "God put that seed in Dennis before He did me. It took me a little while to come around. But it's said in ministry that God won't call a man unless He calls his wife."
Dennis agrees. "It was almost like she was resistant to it. I knew I was getting on her nerves, so I decided to stop talking about it. I didn't stop thinking about it though. Finally, I prayed, 'Lord, if this is You, You're gonna have to let her know.' Before long she started saying, 'Well, if we did, then we would have to …' and I knew she'd heard it, too."
Dennis opened The New Covenant Christian Bookstore in a 1,100-square-foot building on Shelbyville's square. They quickly outgrew that and moved on to a 4,200-squarefoot building on Madison Street. By the end of the three-year lease, the space was full and so was their desire to own their store building. A family friend and real estate agent, the late Bill Parks, began quietly looking for a space. Parks called Dennis one day with news he only wanted to share in person.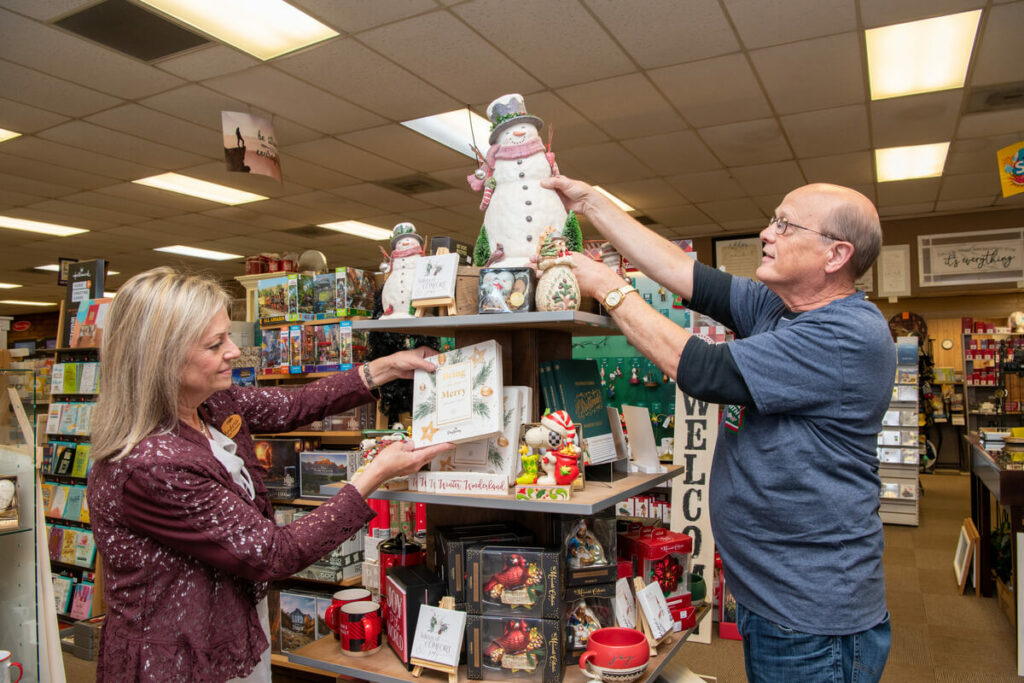 "I hung up and told Andrea I believed he was calling to say the Dial's building was available," Dennis said.
Step inside their store at 800 North Main Street today and walk to your far right. You'll likely see Dennis sitting at the desk smiling back at you from the very spot he butchered meat at when the dream was born. Andrea will be there or nearby, sharing the calling in the place it was received.
What they offer to Shelbyville and Bedford County in this nostalgic location is remarkable.
A common misconception is that you'll find a bigger selection and lower prices out of town or online.
Ironically, it's out-of-town folks that recognize the magnitude of what they offer in 8,000 square feet and often comment on the size and selection in the store.
Dennis said, "Some people think you have to go to a bigger town to get better prices or selection. But if they'll come in here, I think they'll see they won't find any better selection in larger towns. We're like several different businesses under one roof, like a mini-mall. We're more than what you might assume from our sign."
Andrea said, "If people will just give us an opportunity to meet or beat prices, there's no reason to shop online or go out of town. We just need them to walk in."
Now in its 28th year, New Covenant is an authorized Hallmark dealer and an official signature gold Thomas Kinkade Gallery. They offer custom laser engraving, and they also carry music, curriculum, books, Bibles, videos, clothing and accessories, home decor, and more. From baby gifts to bereavement gifts, they cover it all. Other perks include free delivery to area funeral homes, free gift wrapping, and free Bible imprinting.
"We just want our town to have access to quality. We want customers to have quality content and not feel like they're getting leftovers from a larger market," said Dennis. Walk on in. They'll be waiting for you. GN