TWO FALL activities provide a firm foundation of life skills and a launchpad into leadership for their student participants. Marching band and cheerleading give unique opportunities to shine in leadership skills and apply the coordination, dedication, and discipline that is necessary to be successful in life. Commonly heard from the adult leaders of these activities is the challenge of how much time, physical demands, money, and hard work go into pulling together a performance.
Cheerleading
The people who make the claim that cheerleading isn't a "real" sport have never attempted to cheer. The danger and repetition required to complete stunts take many hours of practice and a high degree of strength and skill. In addition to the stunts and cheers, the athletes choreograph their performances for the sidelines of football and basketball games as well as at pep rallies. Seen by the audience in the stands as representatives of the school, cheerleaders put on their uniforms and demonstrate what it means to be a leader.
Every person on the team matters. Every voice counts. Whether organizing and leading a pep rally or teaching boys how to cheer for a powder puff cheer squad, cheerleaders show perseverance, focus, and reliance.
The lifelong benefits of working effectively with different personalities while solving problems are stressed by all the Bedford County high school cheerleading coaches. Additionally, coaches highlight the need to stand on your own as a leader, communicate well, make a difference by working hard, and keep a positive attitude.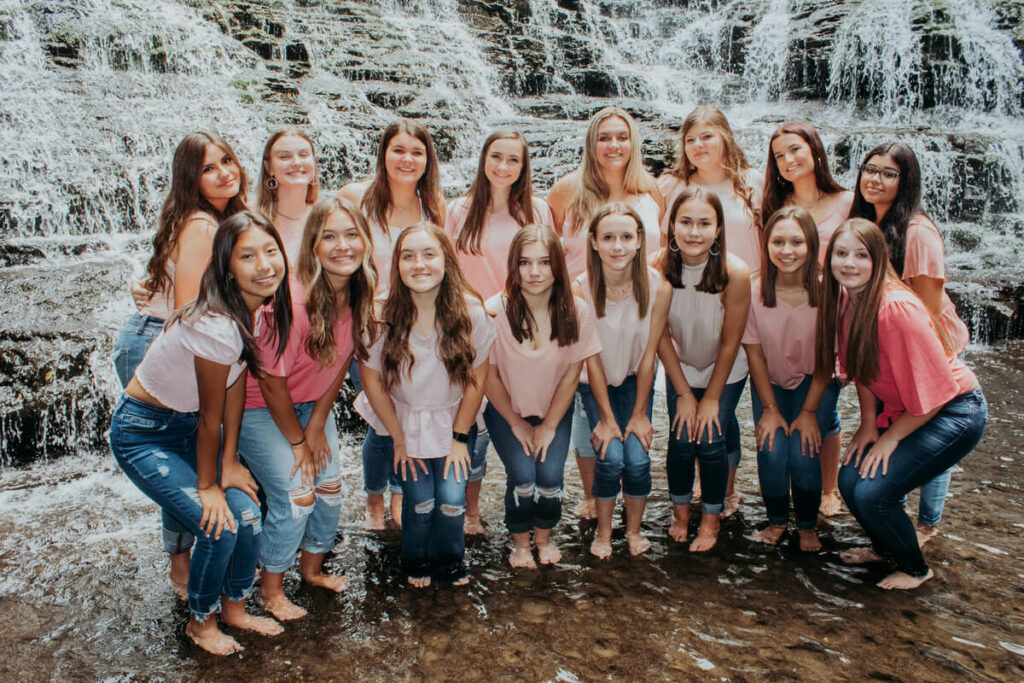 Marching Band
Your average eight-minute marching band show is hundreds of practice hours memorizing music, learning dozens of positions on the field, and disciplining every single aspect of your body posture; from the roll of your foot as you step, to how close your elbows are to your body. Marching band demands a level of physical and mental focus in coordination with dozens of other people on the field. While practicing synchronized movement in all kinds of weather, students are also expected to skillfully play their instruments with the rest of the band spread across the field. It is a physically and mentally demanding activity with no timeouts given and no one warming the bench.
Financially, a marching band is a big commitment, requiring a lot of fundraising and countless volunteer hours to support the logistics of transportation, equipment, and performance. Community High School marching band is just beginning to get into competition after starting a marching band only five years ago. Shelbyville Central High School is the oldest marching band program in the county with records that go back at least 75 years. Cascade High School marching band was formed 17 years ago and began competing two years later.
Marching band provides a home away from home for many students, giving them a foundation for athleticism, growth in their musical abilities, and teamwork lessons that can last a lifetime.
Dedication, intense physical labor, and discipline are all required for cheerleading and marching band. Applause, appreciation, and audience participation help these student leaders experience the fruits of their labor. Be sure to attend home football games at your local high school and enjoy the athletic prowess, leadership, and teamwork demonstrated by cheerleading, marching band, and football. -GN