IF YOU'VE ever gazed skyward to watch an airplane flying overhead, then Aviation Day at Bomar Field– Shelbyville Municipal Airport is an annual family event you're likely to enjoy. Now in its fifth year, this free event drew around 3,000 people to the airport in 2019, and will be held this year on September 25.
Aviation Day, organized and run by volunteers under the direction of Airport Director Paul Perry, is a celebration of many facets of aviation, which may include aircraft ranging from jets, warbirds, and small airplanes to rotorcraft, drones, and RC models. Perry graduated from Middle Tennessee State University and worked for the State of Tennessee's Aeronautics Division for 20 years. During that time, he flew a four- place Cessna 182 to each of the 79 public-use airports in Tennessee, which helped fuel his passion to nurture a "hands-on" introduction to aviation for local communities.
Local schools will be holding fund- raisers by selling concessions and have also volunteered to coordinate parking and traffic flow. Since Aviation Day is a free event, Perry says they rely upon sup- port from people who fly in, so displays of aircraft naturally vary from year to year. "We're doing this so people can realize the importance of aviation in their com- munity. Aviation isn't only the real shiny corporate airplanes that fly by real fast; it's personal aircraft that fly low and slow as well," said Perry, "We want people to see these in person, and learn about airplanes that people can build and fly themselves. We'll also highlight university flight pro- grams and our local flight school which trains students from their private pilot certificate all the way up to becoming an airline pilot."
Aviation Day kicks off with the monthly fundraising pancake breakfast from 7:30 to 9:30 a.m., held by Chapter 1326 of the Experimental Aircraft Association. Then beginning at 11:00 a.m., special exhibits are planned every half hour until 2:00 p.m., such as air- planes flying by in formation or heli- copter demonstrations (since the airport remains open during the event, no aerobatics are scheduled.) Displays by a local aircraft manufacturer (Ar- ion Aircraft) and an aerospace parts manufacturer (Southern Precision Machining) will be onsite, as well as an array of fire trucks and police cars. Additionally, the American Airlines Flagship Detroit, the oldest flying Douglas DC-3, will participate.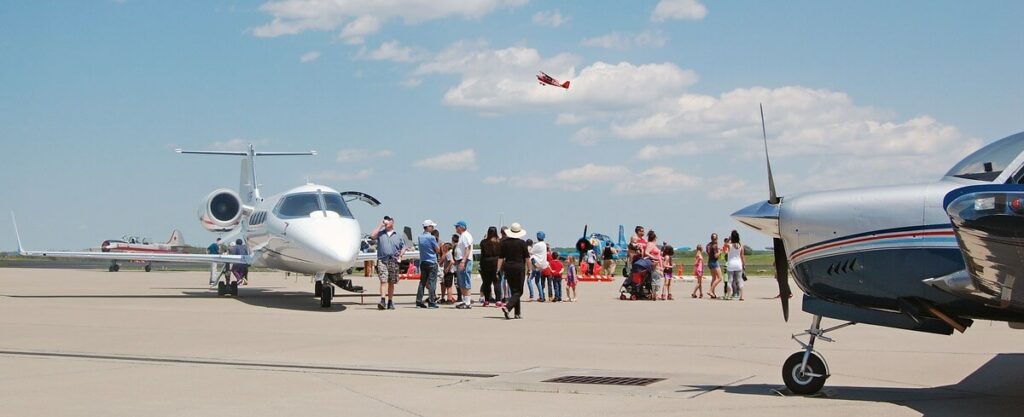 "We'll invite everything from paragliders and a tethered hot air balloon to EMS and military helicopters, so people can see them close up and watch them fly. We'll have all kinds of different things in our Avi- ation Day," said Perry, adding, "One year, our maintenance shop, Mack Air, pulled an airplane out on the ramp without its engine cowling, and the crowd was drawn to it – they were comparing the engine to what was in their tractor or hot rod. People don't normally get to see things like this, and we want them to see aircraft up close and personal, to hear the noise and feel the prop-wash breeze, and answer their questions. Another year, a company displayed their corporate jet and the line to see inside it was 20 to 30 people deep. Shelbyville Flight Academy will participate, and some rides should be available."
For more information, please contact the Shelbyville Municipal Airport at (931) 684-1669 or by email at ksyi@shelbyvilletnairport.org. The airport is located at 2828 Highway 231 North. -GN