West of the Appalachian Mountains, a beautiful expanse of elevated land known as the Cumberland Plateau rises approximately 1000 feet above the surrounding countryside. The small town of Monteagle serves as a gateway to this playground of natural wonders. There are waterfalls, gorges, arches, natural bridges, and ever-changing views that will leave you filled with awe. Whether you want to camp, hike, bike, soar through the air on a zipline, listen to live music, or enjoy the sights from the comfort of your car, everyone will enjoy a day on top of the mountain.
Monteagle has long been a popular stopping place for travelers. After all, the top of the mountain is the perfect place to stop, stretch your legs, fuel up, and get a bite to eat. From mules, oxen, and horses to motorcycles, cars, and eighteen-wheelers, the road to Monteagle has been well-traveled and has been the backdrop for many a family story. Johnny Cash even penned a song about a runaway truck titled Monteagle Mountain. During its heyday from the 1940s to the 1960s, the small town catered to travelers with over a dozen service stations, restaurants, lodges, and even a few beer joints.
For over 60 years, one of the favorite stops in Monteagle has been the iconic JIM OLIVER'S SMOKE HOUSE. Although a devastating fire recently destroyed the restaurant and General Store, the 85-room Mountain Lodge and 23 cabins survived. As the family gathers the resources to rebuild the restaurant and general store, you can still enjoy this historic landmark with an overnight stay at the lodge or in one of the log and timber frame cabins outfitted with fireplaces and Jacuzzi tubs. The Smoke House also has a long-standing tradition of live music which will continue in the barbecue pavilion behind where the restaurant once stood. Jim Oliver's Smoke House will rise again, and we can't wait.
If you're ready to get outside and get some exercise, you've come to the right place. At BIGFOOT ADVENTURE, you can ride a zipline, play a round or two of disc golf, go hiking, and even set up a tent and stay for a night or two. You can walk, run, or bike the MOUNTAIN GOAT TRAIL, a paved, multi-use recreational path built on an old railroad bed. Today, a five-mile stretch of trail connects Monteagle and Sewanee. Eventually, it will extend to 35-plus miles, connecting seven towns in two counties. You can take a walk across the NATURAL BRIDGE in Sewanee, a 25-feet-high natural sandstone arch that spans 50 feet. The bridge is easy to get to and just a couple of hundred yards from the parking lot. There are also multiple hiking trails you can explore. It just depends on how far you want to go. The SEWANEE PERIMETER TRAIL is a 20-mile loop through an upland deciduous forest with beautiful overlooks, geologic features, lakes, and ponds. There are also ten hiking trails along the route, including Bridal Veil Falls. SOUTH CUMBERLAND STATE PARK spreads over four counties with more than 30,000 acres of land that includes 90 miles of hiking trails. On the Grundy County side, FOSTER FALLS, a spectacular 60-foot waterfall is a sight to behold.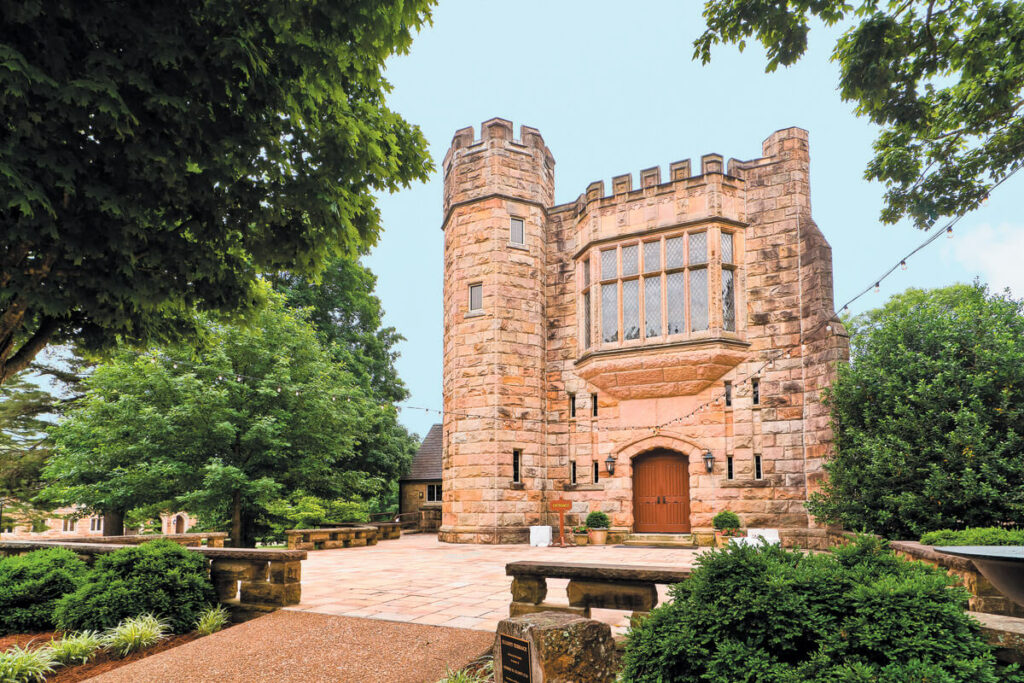 If a leisurely drive sounds more appealing, the beautiful campus of the UNIVERSITY OF THE SOUTH IN SEWANEE is a must. Sewanee is located approximately six miles from Monteagle. The campus is situated on 13,000 acres and features impressive stone buildings with architecture inspired by Oxford in England. Most of the buildings are constructed of locally quarried Sewanee sandstone. A short drive down Tennessee Ave. will take you to the 60-foot-tall SEWANEE MEMORIAL CROSS, which stands in a quiet spot on the edge of a bluff, where you can see for miles.
Where to Shop:
Several eclectic shops offer a fun and unique shopping experience. MOUNTAIN OUTFITTERS has everything you need to enjoy the great outdoors. Offerings include, Chaco sandals, Blundstone and Danner boots, Patagonia sweaters and jackets, Columbia pants, and many other brands of women's, men's, and kid's clothes. For something you won't find just anywhere, ask about the handcrafted feather bow ties. MOONEY'S MARKET EMPORIUM is a local market stocked with health food products, garden supplies, crafts, and antiques, all under one roof. The shop truly has something for everyone, from hand-knit hats and plants to vitamins and kombucha. HALLELUJAH POTTERY features work from master potters, in addition to sculptures, earrings, and candles.
Where to Eat:
MOUNTAIN GOAT MARKET in Monteagle features a menu that includes a variety of unique sandwiches, salads, and pizzas, in addition to creamy milkshakes and other irresistible desserts. Take some time to wander through the market and browse the shelves that showcase unique gift items, including locally sourced jams and honey.
Sewanee has several fun dining options as well. SHENANIGANS is housed in the oldest building in Sewanee. The menu features casual grilled fare, made-from-scratch pizzas, burgers, southern comfort food, and a great selection of regional, award- winning craft beers. Outside patios strung with lights ass to the charming atmosphere in the two-story blue house, which has been a Sewanee institution since 1974. THE BLUE CHAIR is a small cafe set inside a quaint house on the university's campus that serves breakfast, lunch, and coffee. HIGH POINT RESTAURANT offers fine dining in a 1929 mansion. According to local legend, the mansion was financed by Al Capone. During the prohibition era, escape hatches on the roof and tunnels in the basement were used to transport liquor. Today, the details and history of the building enhance the dining experience with a hint of mystery. PAPA RON'S ITALIAN STEAKHOUSE is the sister restaurant to High Point, located less than a mile down the road. Best selling menu items include Chicken Penne, meatballs, fried mushrooms, and breads. Be sure to plan a stop at the DUTCH MAID BAKERY in nearby Tracy City. It's the oldest family-run bakery in the state of Tennessee. The bakery, established in 1902, is still operated by descendants of the founders and serves up fresh-baked bread, pastries, and cakes daily.
These are just a few ideas to get you started. There's so much to see, taste, and do up on the mountain that one day trip is sure to lead to another. -GN