THE SMELL of freshly cleaned hardwood floors fills the air. The bright fluorescent lights hum above the bleachers. The cool AC fights the stuffy hot air from cheering fans. The referees and umpires run up and down the court chasing the players. Dribble. Dribble. Dribble. The textured ball bounces in slow motion time and time again. Nothing says America like a crowded, loud gym. Lines at the concession stand grow longer at halftime because family and friends don't want to miss a single shot.
Rick Insell knows this feeling all too well. For years he has coached students and players in basketball to grow from talented young athletes to women in the Women's National Basketball Association, or WNBA. Not every coach can obtain that level of success for their team, but Rick Insell has done it over and over again. Rick called Shelbyville Central High School home from 1977 to 2005. His high school teams went on to win more than 750 games and broke school records. He, the players, and the school were recognized by national media for their success. Talent is everywhere in Shelbyville, but with his guidance, the women basketball players in Bedford County were able to shine for the world to see.
Then, Middle Tennessee State University needed a new coach. In 2005, Rick retired from Shelbyville Central High School to join the MTSU Women's Basketball program. He was the new man on the court and brought with him game-changing coaching that boosted the school's presence in the Women's sports arena.
After a trailblazing career of success, the Shelbyville Central High School wanted to celebrate Rick's success and acknowledge the lasting legacy he helped generate at the high school. On June 5, 2021, the high school hosted a ceremony to officially rename the gymnasium in his honor. For decades, basketball players will play in a gym named after him.
"This great honor represents all of the outstanding players, assistant coaches, and supporters who helped make Shelbyville Central High School girls basketball what it became," Insell said at the ceremony. "I believe our players took great pride in being an Eaglette, and I took great pride in being their coach." -GN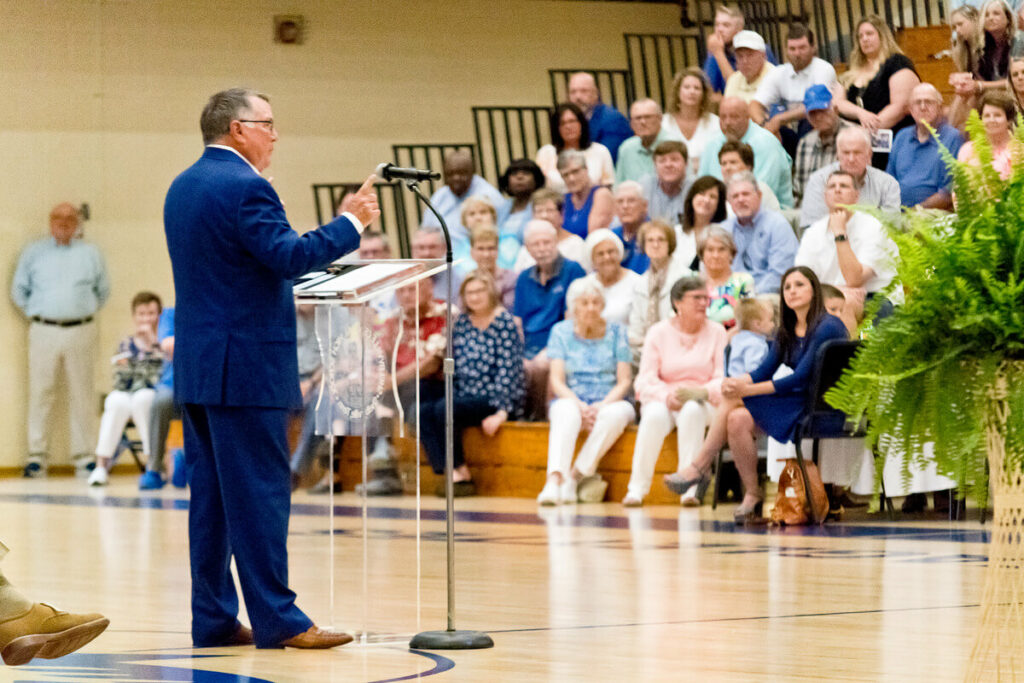 1,150+ total victories in 40+ seasons
775 – 148 record at Shelbyville Central High School
378 – 138 record at Middle Tennessee State University
Only coach in NCAA history to produce three consecutive NCAA scoring champions
Three – time Coach of the Year
Four – time National Coach of the Year – USA Today 1989, 1991; Converse National High School Coach of the year 1990, 1992
Received invitation to the Oval Office from President George H. W. Bush for academic and athletic achievement
Tennessee Secondary Schools Athletic Association Hall of Fame, 2003
National High School Hall of Fame, 2007
2010 recipient of the Naismith Basketball Hall of Fame's Morgan Wooden Award for Lifetime Achievement for High School Girls Basketball
Tennessee Sports Hall of Fame, 2012
Cannon County Sports Hall of Fame, 2013
Women's Basketball Hall of Fame, June 2017
Blue Raiders Sports Hall of Fame, September 2017
Middle Tennessee's all-time winningest basketball coach (men or women) with 378 wins
Has developed six All-Americans, six conference players of the year and four WNBA draft picks
Led Shelbyville Central High School to a TSSAA record 10 Class AAA state championships
Shelbyville Central was named USA Today National Champions in 1989 & 1991
Posted a 775-148 record for an 84 percent winning percentage
1991 Shelbyville team selected as the Tennessee Sports Hall of Fame Team of the Year – the first high school team ever to be recognized