LYNFIELD GARDENS in Bell Buckle and Craig and Wheeler Realty in Shelbyville reminded me of two important principles: loving my neighbor, and the old saying, "Do unto others as you would have them do unto you."
Teachers in Bedford County worked late into the night readying their classrooms for the 2022 – 2023 school year, and Chris and Stephanie Sarsfield, owners of Lynfield Gardens, were gearing up for their second annual "Loving Teachers from A to Zinnia" flower drop-off service.
"Last year, it began as a suggestion from a local elementary school principal," said Sarsfield, "And it started with only a few orders. As the school year approached, parents started messaging us. We consider it a success because teachers are being shown appreciation and support from our community."
Ben Craig, co-owner of Craig & Wheeler Realty, remembers his first day at the real estate office with his grandfather, Auburn Wheeler, and the gift he still cherishes. "Granddad gave me a gold-colored ruler with the words from the 'Golden Rule' across the front. He asked me to keep it inside my desk drawer and reminded me to never stray from those words. Granddad wanted us to stay grounded in Bedford County, as we have for the last 49 years, and to give back to this community. We talked with educators and decided to donate Keurig Machines for the teachers' lounges. We weren't looking for publicity we just wanted to offer a simple thank you to those who do so much for our children."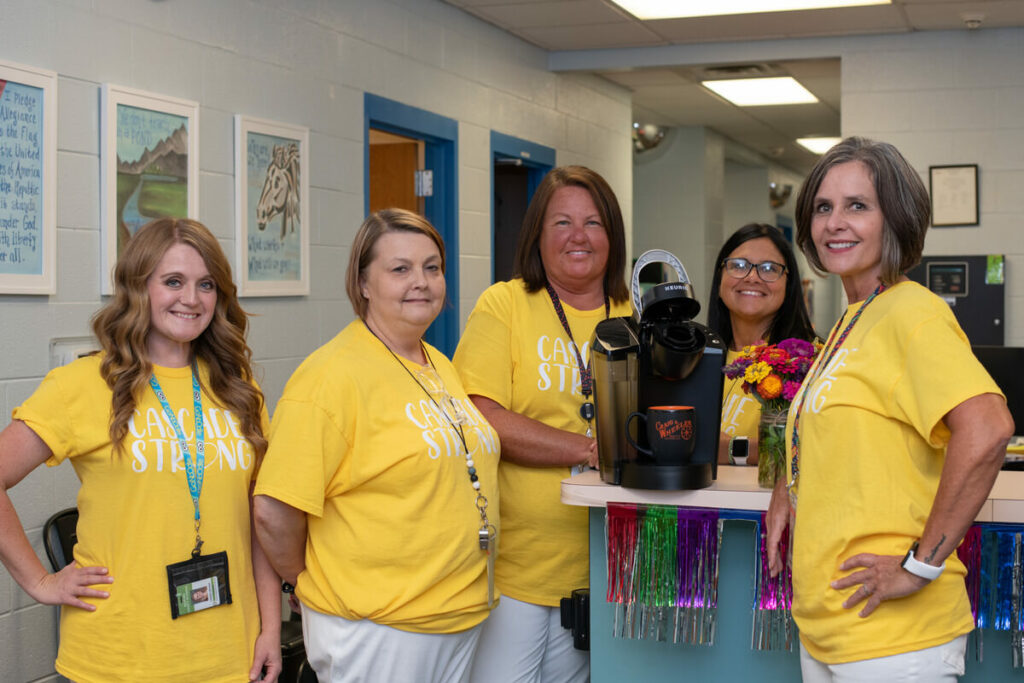 In 2020, Tina Corley started the Bedford County, Tenneessee Adopt a Teacher Facebook page. There, teachers post classroom wish lists, and items are purchased by local families and businesses. Corley's page raised $30,000 in supplies that year, but financial support has now tripled. In less than 60 days, the 2022 campaign has raised $90,000 in classroom supplies and teacher give-backs! Local business Newell was a second-year contributor, donating over $25,000 this year. "The results of our third-annual campaign were astronomical," said Corley. "I'm honored to be a small part of something so incredible for those who make a difference— our teachers. What started as an idea to help teachers obtain classroom supplies has evolved into something much bigger. I'm honored to be part of what has truly become a 'movement' for our community. It's a benefit that reaches every teacher and all 8,643 students."
At this crucial time in our nation, where seasoned teachers are retiring, fewer graduates are choosing to teach, and teacher shortages loom, the citizens and businesses of Bedford County linked arms with their teachers. They delivered coffee makers and bouquets of flowers. They transformed wish lists into bookshelves of books and filled empty desks with supplies.
The Sarsfields, owners of Lynfield Gardens, joined the letters LYN (which stands for Love Your Neighbor) with their last name to create one word: Lynfield. They wanted to be reminded each and every day to love their neighbors. If we all follow their example, what a wonderful world it would be. GN