THE WEBB School girls basketball team clinched their 68-point game- winner against Middle Tennessee Christian School, making them TSSAA Division II Class A champions for the second consecutive year.
Director of Enrollment Management and Webb School graduate Julie Harris said she has watched the team change completely since coach Matt Shewmake has been coaching. She said he transformed the program. "He's coaching at a different level than I've ever seen."
Harris said the school prepares well-rounded individuals by emphasizing excellence in arts, athletics, and academics.
"They are such a draw to colleges be- cause they're athletically talented and aca- demically at the top of their game."
Shewmake, the girls varsity basketball coach, is currently in his second year of coaching at Webb School. He coached D-1 basketball for 10 years, leaving him with 12 years of coaching experience.
Shewmake said winning a champion- ship takes sacrifice.
"Winning is not convenient. It takes not going on the beach trip with your friends and staying home with your team and practicing."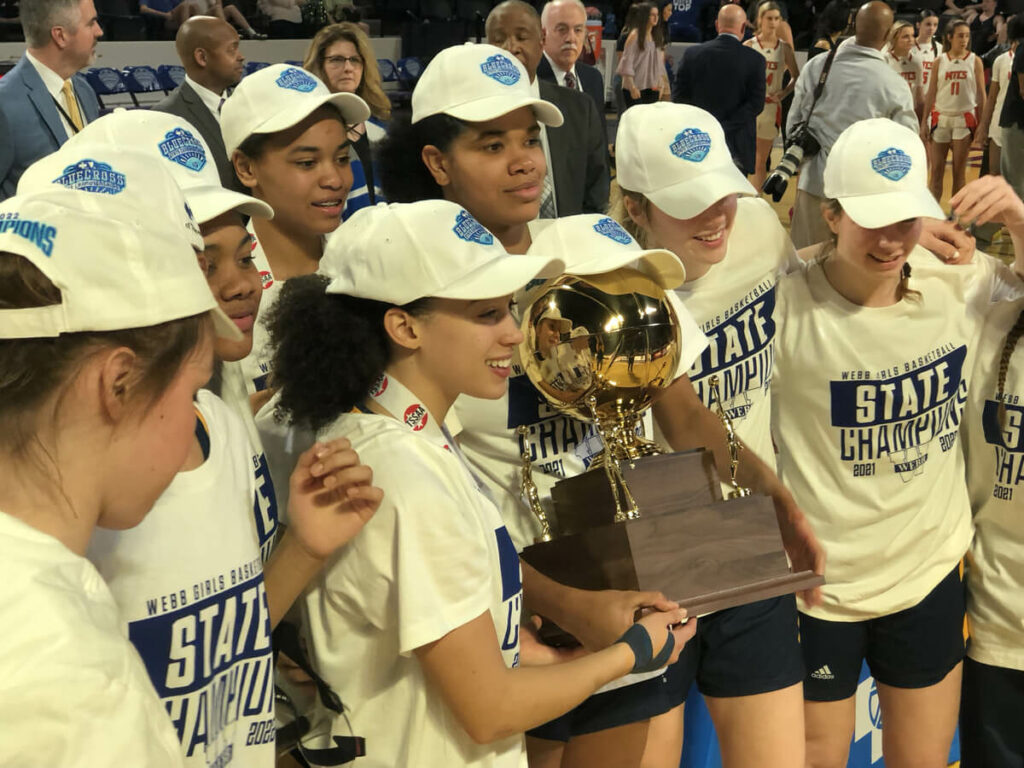 Shewmake said one thing that makes the team stand out among other groups is their diverse backgrounds.
"The thing that is so unique about our team is that we have the most diverse team, probably in the state of Tennessee, by far."
The team consists of players from the Bahamas, Spain, Canada, and all over the U.S. Shewmake said that despite their differences, the players took the time to get to know one another and their various backgrounds, which is one of many factors that helped them get to where they are now. "It was unbelievable to watch a team of people, who maybe didn't know each other, learn to compromise and respect each other, and it was fun to watch," Shewmake said.
The team has played against eight top 25 teams in the country, and Shewmake said the girls could have chosen any school they wanted, but they decided to attend Webb School.
"It's a special place,a special group of kids, and they want bigger than themselves." The team was inspired to reach the next level of their athletic careers by former Webb School girls basketball player Lashae Dwyer, who Shewmake said brought a lot of notoriety to the Webb School's bas- ketball program.
Dwyer participated in the pro- gram during the 2020-2021 school year and went on to compete in the Elite 8 and AAU basketball during her time in Shelbyville.
Shewmake said the players watched Dwyer blossom at Webb School and later travel to Miami to begin her ca- reer and decided they wanted to work hard in hopes of competing at a higher level just like their former teammate.
"Anytime people have [a] vision and dream of what they want to make something into, they can. It just takes the right group of people wanting to achieve the same goal, and that's what we have here." -GN