A FRESH-BREWED POT of coffee waits for you as you take butter from the fridge and add three thick pats to your favorite saucer. You slowly pour sorghum syrup over the butter, swirling them together, creating the perfect bronze texture of sweet, gooey goodness to top a fresh-fromthe- oven buttermilk biscuit. Only one thing could make it better – sorghum syrup so fresh it was in stalks in the field only weeks earlier.
It's more than a delicious treat; it's a changing of the seasons, a reset to your favorite time of the year. Every first Saturday of October, a trip to the Halls Mill community doesn't just take you out of the city limits; it takes you back in time.
Time stands still on part of the farmstead, originally settled in the early 1800s by Randall Crowell's ancestors when they came to Tennessee from North Carolina. The still-standing old homeplace, barn, grain house, log corncribs, and smokehouse testify to the workmanship of bygone eras. Squint, and you can almost see wispy smoke snaking out of the rock chimney as the first leaves of fall float lazily to the ground. Imagine, on the porch sits senior family members waiting for a word from the Civil War battlefields. The old house was to serve as a hospital during the Civil War, but the battle was fought farther from home. A hospital was located in the area of the Battle of Franklin instead.
It's here that Crowell and Clyde Elvis Boyce teamed up, 21 years ago, to put together what Crowell calls "the show," a free demonstration of how sorghum was milled in days gone by. Crowell said, "It's a communityoriented educational thing, not a money-making thing."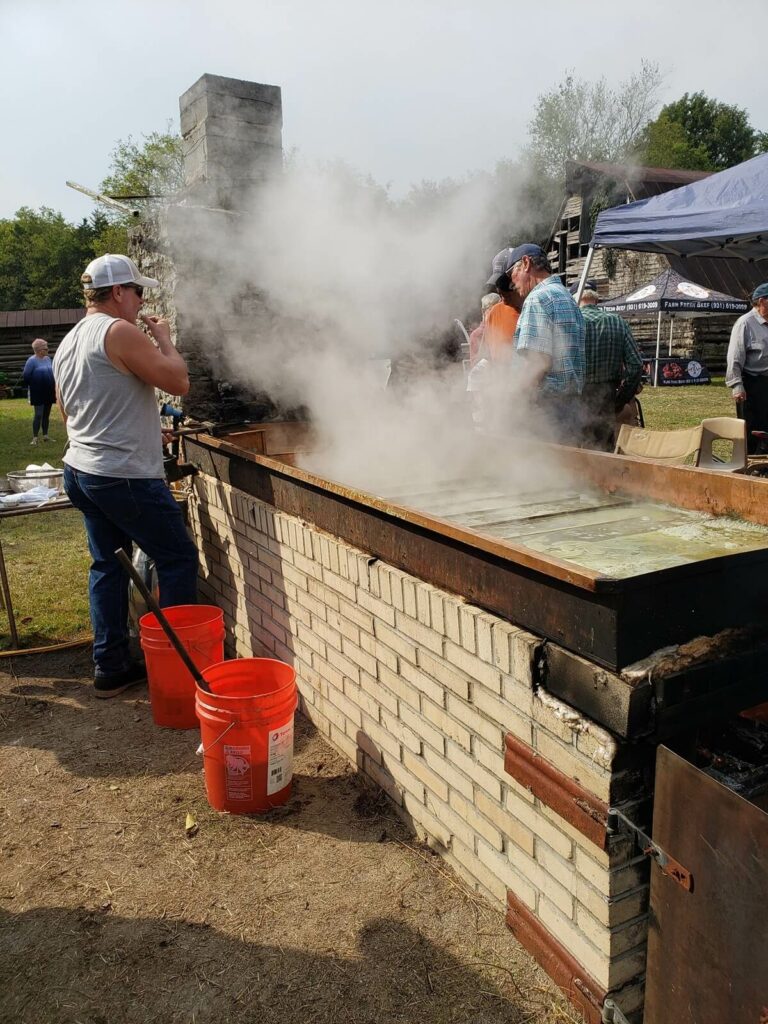 You don't have to squint to see the mule-powered roller mill pressing the juice from the stalks or the steam hovering over the syrup boiling over cedar slabs. Head brewmaster Hollis Paschal has stood over the evaporator pan every year of the squeeze.
"The cooker is just one guy. Everybody does what he tells them to do, and nobody gives him any lip, because he knows what he's doing. It's an art, and he started out 20 years ago, and he's still good at it. The assistant brewmaster is Randy Davis. He can cook, but he'd rather have Hollis around to hold his hand," Crowell said.
Other Halls Mill Sorghum Bottom Gang members are Harry Locke, Lance Paschal, Byron Paschal, Quinton Howard, Daphne Motes, Wayne O'Neal, and Danny Ray Davis. Still, many others contribute their time and energy, usually 15 to 20 workers, on work days leading up to Saturday.
There'd be no brewing without spring planting. Crowell said, "I probably have the only sorghum patch in Bedford County, and I do everything except cook. I raise it and furnish the equipment, but I don't cook. The same people supply all the labor."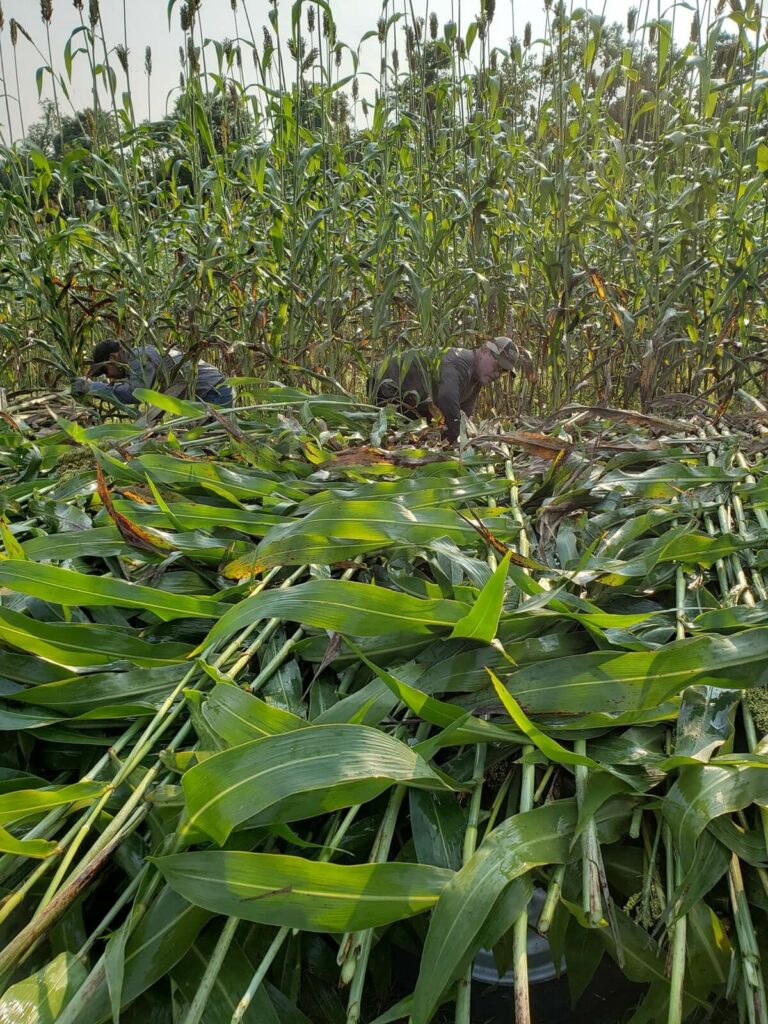 Fresh sorghum syrup is sold at the event, and the first batches are processed in early September to be available at the show. The Chattanooga No. 13 roller mill, which Boyce, who is now deceased, inherited from his grandfather, is only used on show day.
"We make about 50 gallons, [and] bottle it all in sealed bottles. It stays good for several years. There's no sugars or other additives added. Ten gallons of juice yields about one gallon of syrup," Crowell explained.
Crowell has lots of history to share. "My dad's dad, my granddad, was a constable of the area down here. I understand they had a whiskey still here before Jack Daniel's got cranked up in Lynchburg. They had a well, they called the still well, that supplied the water for their whiskey."
For history like this, and more, bring your lawn chairs and plan to spend the day. Live music every year adds to the festivities, and cloggers remind you of simpler times. Their steady rhythms tap out reminders of days when work and play were synchronized and naturally executed with friends and family. And you won't have to leave for lunch. The Halls Mill Sorghum Bottom Gang offers plenty of choices for your meal and dessert. Demonstrations of other arts and crafts from the past are often present, and you can get a jumpstart on your Christmas shopping from the variety of treasures offered.
The show is not to be missed, and your chance won't come again for another year if you miss it. The fact that it's also free fits every budget.
What's on your biscuit? GN