ENTER SOURCE, A nationwide company dealing with fiber home installation services, started right here in Shelbyville. Today, it's a national brand.The success of EnterSource and its founders, brothers Adam and Joseph Forsee, is attributable to multiple sources built upon a core foundation, and they give God all the glory. "God almighty is the only reason we've been able to do what we do and have gotten where we are," Adam said.
The fact that they work together as well as they do is a testament to their parents and grandparents and the upbringing they've had. It influences, guides, and shapes their lives. Graduates of Shelbyville Central, their local education contributed to their success as adults.
"What Joseph and I have is really special," Adam said. "We do so well because we're a kind of yin and yang, making up for one another's weaknesses. We balance and feed off one another."
Another strong credit goes to their wives, Erin and Carye, who support them in innumerable ways. The brothers were already in business when they married their wives. The women committed to the family business, and the brothers wouldn't want to do it without them.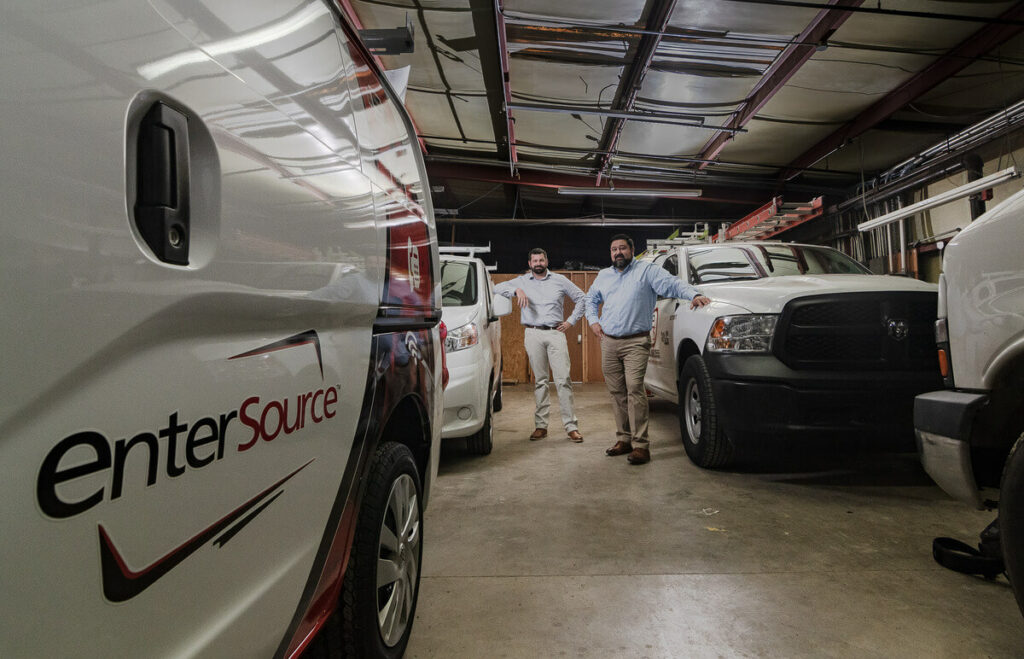 From a 600-square-foot historic building on Shelbyville's square in 2006 to today's nationwide operations with offices throughout multiple states and a team of more than 125 members, they all work seamlessly together to provide residential installation in portions of more than 14 states and serve all 50 states with commercial services. You may very well have watched your favorite series or a movie using services they've installed. Their primary services are fiber home installation services; fiber drop installation services; low voltage and structured cabling projects; residential satellite installation fulfillment services; and sales and installation of services in lodging, institutions, and medical spaces.
"We believe every customer deserves better. They deserve better service, better installation, and overall better customer experience," Adam said. They strive to deliver an exceptional customer experience inside and outside the company. In the Forsee business model, customers have two definitions: the external customers, those they provide their services to outside of their company; and their internal customers, their employees.
This commitment to bettering the lives of both types of cus- tomers flows through every decision made by the brothers and their staff. "Basically, all we did was keep saying yes," Adam said. "Whenever they asked if we needed more area, we would say yes. That's kind of our thing, we'll say yes and figure it out later." Shelbyville's strong community of business owners has offered their support and feedback to others desiring to follow in their footsteps. Businessmen with older successes have encouraged and guided them, and the brothers offer theirs to anyone who asks.
And what would they tell them? "Just keep saying yes." -GN