KABOOM. LIGHTNING struck a tower of speakers for the horse show. The storm was relentless; it had no signs of stopping. The problem was, it knocked out an entire tower of speakers. A baseball game can go on without a public address system (PA system). A football game could go on without an an- nouncer. But a horse show? Without an announcer, the show can not go on. The spectators, the trainers, and everyone involved needs to be aware, and able to hear, for it to move smoothly.
Mark Kincaid and the rest of the team at Kincaid's climbed on a lift up to the speakers. 30 feet of the copper wire had been not only fried by the lightning, but completely disintegrated. It no longer existed, turned to ash and smoke by the lightning. Mark climbed the lift and did what he had to do. The storm carried on, and the lightning could return at any moment. By luck or protection from a Higher Power, he and the rest of the team at Kincaid was able to fix the speaker tower. That determination and drive to make the horse show the best it can be comes from a long line: generations of the Kincaid family have put in work every year. Earl Kincaid, his son Calvin, Calvin's son Mark, and Mark's son Christian have all had a hand in making the horse show happen.
Right now on the Celebration grounds, there is more than a mile and a half of wire. A massive web of wires stretch across the grounds, from arena to arena. The goal for the Kincaids is to go unnoticed. They want any hic- cups or issues behind the scenes with the sound to be fixed in under five minutes, and when they do happen, the spectators usually can't tell the difference. It's only with strict attention to detail and a passion to make the best experience for the spectators that makes that goal possible. Calvin has seen adjustments to the PA system through his years working for the Celebration.
"I installed a lot of it over the years. We've changed and added things to the sound system to make it operate," Calvin said. "It has to be very flexible… We have to be able to announce from different positions over the same speakers."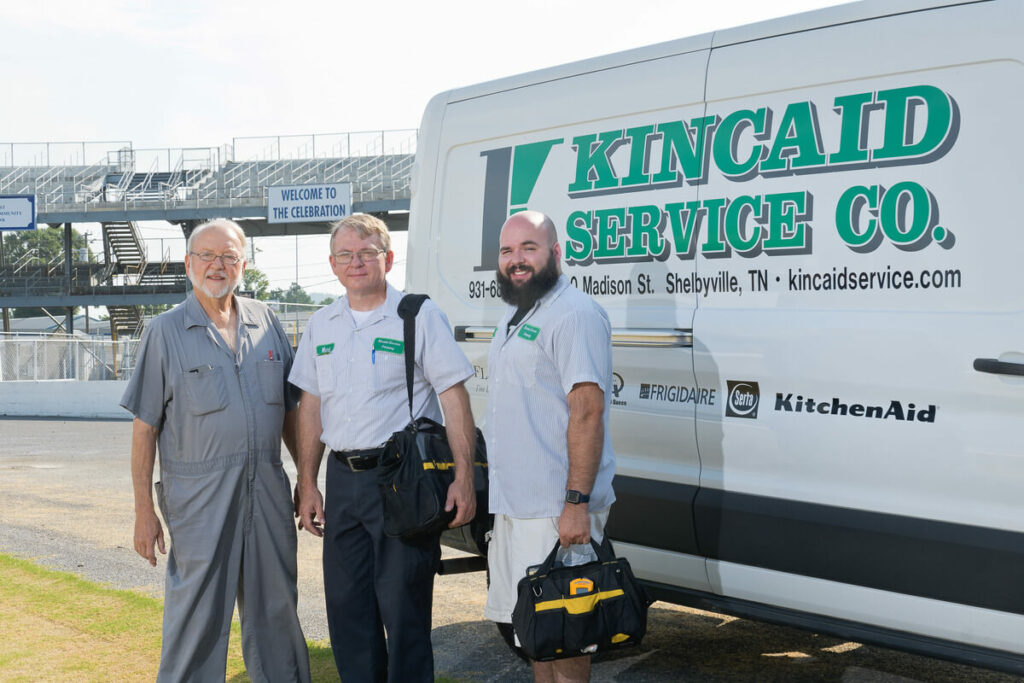 A sound system this intricate and complicat- ed can only be managed with talent – talent that runs through a blood- line. Shelbyville resi- dents can rely on the Kincaid family at their store, Kin- caid Service Company. Calvin's wife and Mark's wife also help in the store.
"There is a comfort level of working with your family," Mark said. "It's a tremendous blessing to be able to work together the way we have. We're a family at work and a family when we get home."
When you're sitting in the arena and hear the words of the announcer, think of the Kincaids. For decades, they have gone unnoticed, while hundreds of thousands of spectators have heard their work. -GN