… but Shelbyville's police and Santa make spirits bright by delivering Christmas joy.
SANTA HAS a local connection, but don't tell everyone. In December, the atmosphere at the Shelbyville Police Department feels as much like Santa's workshop as a law enforcement hub. But never fear; they're always ready to respond at a moment's notice if you call.
Thanks to the Shelbyville Police Benevolent Association (SPBA) and its members, Christmas is a special time for some children from homes where officers have responded to various calls. Last year, more than 30 children had a brighter holiday due to the association's outreach.
IT'S A MISSION THAT BLESSES BOTH THE GIVER AND THE RECEIVER.
Lieutenant James Wilkerson said, "It gives officers a chance to get their kids involved in delivering these Christmas presents. And you know, it sticks with those kids from now on; they'll always remember that."
Officers choose a child and receive $300 in shopping money from SPBA funds, along with a list of their child's needs and wishes. Many officers add their own financial donations to this amount and involve their families in purchasing the gifts. On their delivery day, the officer's family meets at the station, and they all go to visit the child in the chief 's car that has been transformed into a sled by 580 Graphics.
Officer Russ Grubbs knows how the visits impact his family. "The first year we did it, I explained to my daughters how it would work. I told them, as Christians, we have to help out. We have to give and enjoy giving to others. Both my daughters sat down on the floor helping the little girl open her gifts, and it's just stuck with them."
"We're probably different from any other department in Middle Tennessee. Our officers contribute from their checks weekly. And, of course, the fundraisers that we have, that's what goes into this. We greatly appreciate the community's support, and we're giving back," explained Wilkerson.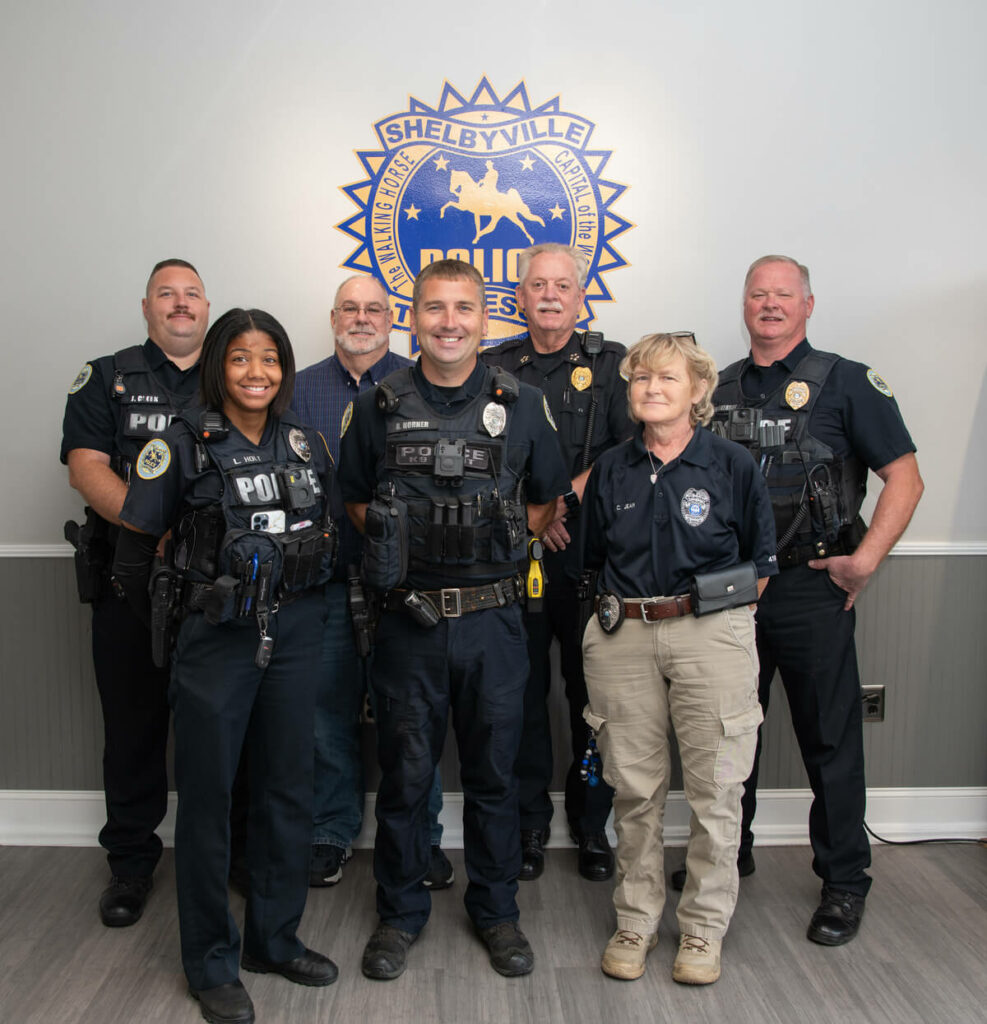 THE DEPARTMENT HAS SANTA' S DIRECT LINE.
Dispatcher Brian Wagner and Santa are inseparable. It started in the 80s when someone asked Wagner, who used to live 40 miles south of Chicago, to be Santa for their children.
"It just snowballed from there," he said. "Somebody I was dispatching with asked me to do it for their Cub Scout party, and things just kept going from there. The Chamber of Commerce had a little Santa house in the middle of downtown Lansing, and I did their Santa house from the first Saturday after Thanksgiving until the week before Christmas. I did their helicopter fly-in, too. That kind of started the whole thing. After that, it just kept growing and growing," Wagner said. "There's a lot of Santas out there, and sometimes they rush. And I get it. There's a long line. But some kids need a little extra attention, and you take your time to see what they want."
SANTA AND HIS ELVES LEND THEIR TIME TO THE DEPARTMENT'S VARIOUS HOLIDAY EVENTS .
Wilkerson said, "You have to be a selfless individual to be an officer, and you have to put others above yourself. You have to be willing to lay your life down for somebody you don't even know. And it just goes hand in hand, giving and helping these kids. And it's rewarding for us to see the smiles on their faces. It is worth all the negative publicity to see one child or children affected."
The SPBA is a 501(c)(3) funded 100% by donations through voluntary payroll deductions. Donations are also accepted from individuals and area businesses. The association benefits from its annual Police Fun Run, a 5/10k run/walk that is held the last Saturday in September. Remember, the SPBA will never solicit donations. GN