911 IT'S A CALL we hope and pray we never have to make, yet we're confident someone will come when we do. Answering those calls is the responsibility of our first responders, and we envision an army at the ready.
In our panic, our ability to reason logically about what constitutes an emergency is challenged, but our failure to think clearly might cost a life. It's not our life or the life of our loved one, but the life of someone in need of emergency assistance at the same time.
Paramedic Johnny Poff knows how critical our decisions to call 911 are. And to help us evaluate our choice, Poff offers basic guidelines for scenarios requiring emergency treatment.
"You cut your finger. A true emergency would be cutting your finger and exposing the bone. Or you cut your leg severely and may need a tourniquet. A major bleed is spurting, a moderate bleed is oozing continuously, and a minor bleed is something that you can stop within the first two to three minutes. A moderate bleed might justify a car ride to the emergency room, and you might manage a minor bleed at home," Poff said.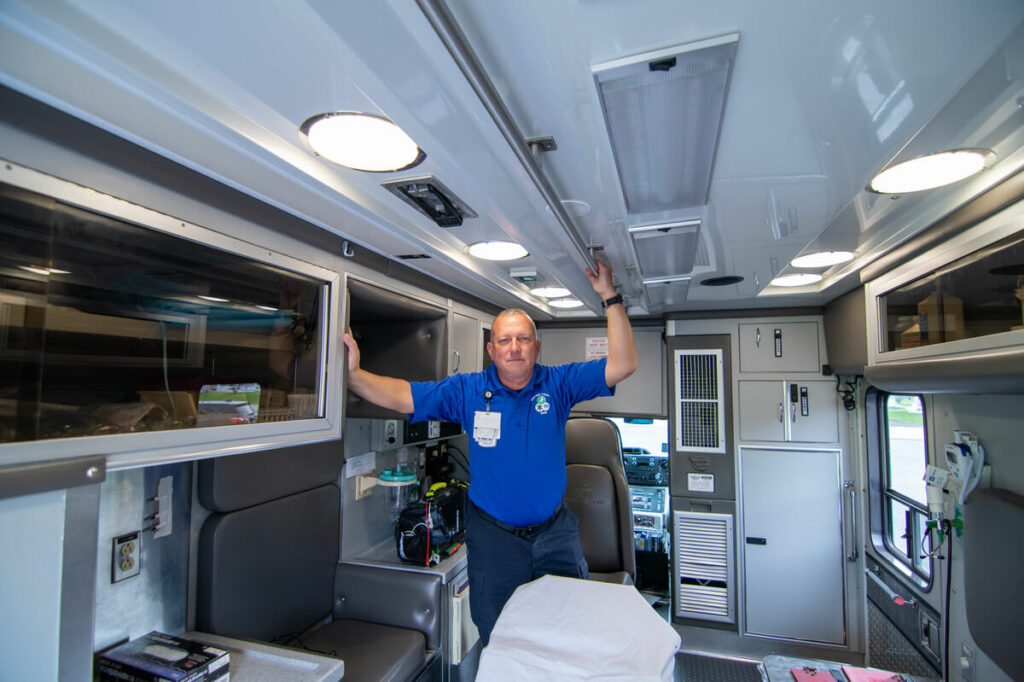 Taking time to learn the true signs and symptoms of a stroke or heart attack saves lives, as does understanding the difference between respiratory distress and shortness of breath. And with only five ambulances covering 530 square miles in a community of over 50,000 people, attending to the
nonemergency call may leave a true emergency without adequate resources. Emergency medical services are not exempt from the staffing shortage affecting all of life in 2022.
He explained, "You're in a minor car wreck, and you think you're hurt. The ambulance comes out and evaluates you, but do you need a ride to the emergency room, or could someone drive you? While you think your neck is sore, two houses down, Miss Jones is having a stroke. That could be life or death for the next call. I've worked in this county when we didn't have enough staffing to run more than two ambulances, because we didn't have the personnel to staff them fully."
Poff, a 40-year veteran of emergency medical services, served 31 years with the Nashville Fire Department and has been a paramedic with Bedford County Emergency Services since 2019. He has seen it all. From the call for a troubling hangnail to multiple fatalities in auto accidents, this public servant has shown up. On call and off, his heart is for helping.
"I worked as an instructor for the State Fire Academy in Bell Buckle. And honestly, I got tired of living in the dorms, so I decided to buy a house here. I'm doing a training series on technical rescue that will probably last a year. So being involved in the community, wanting to see our community prosper and grow and be better, from the emergency services aspect, is a priority of mine. I don't have any family, so my family is who I work with; my family is the lady across the street that needs her water heater fixed or replaced. I'm here to help people, whether it's the lady across the street or the person in a horrific car wreck. That's just who I am," he said.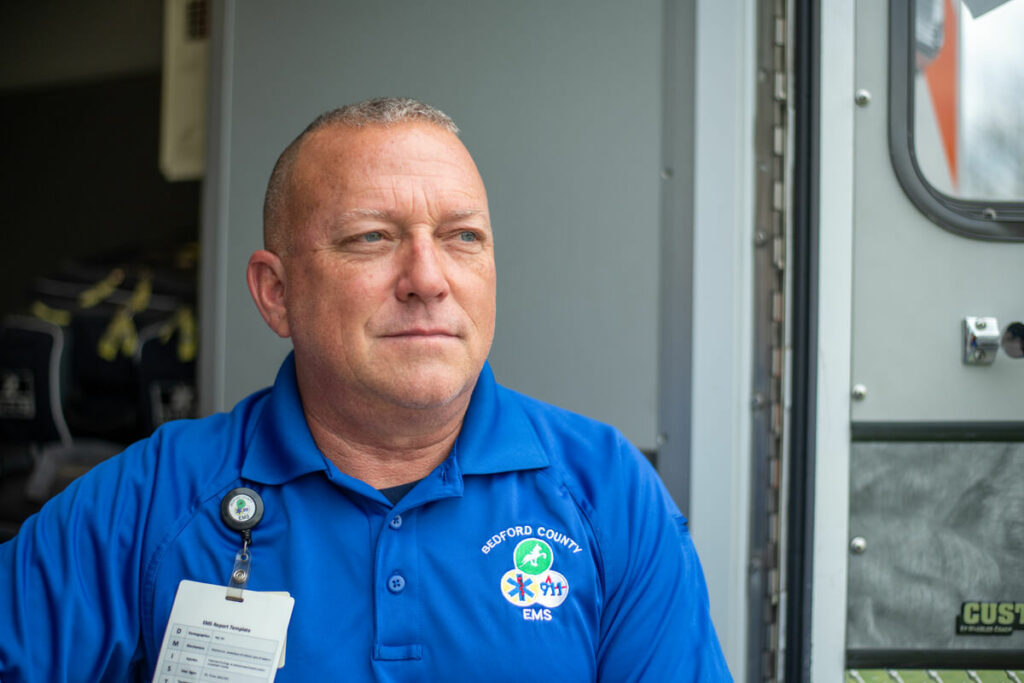 And Poff has dealt with countless horrific scenes. As with all first responders, it can take a toll on their mental health, and managing it is a priority.
"I'm not sure how I do it, just that I think this work is one of the things I was chosen to do. I'm just following the way I'm supposed to go, if that makes sense. I used to go fishing a lot, and most of us have some type of activity we're involved in to help get our minds off our jobs. Because no matter what we do to help the stress of our job or what we see, we're never going to get rid of it. It will be forever ingrained in the deepest files of our brain. For me, I use work a lot of times to keep my mind from thinking about what happened, or I teach a class or talk to other people about what we do for a living, because that's my biggest fear for our young folks in today's world. How will they cope with the amount of stress they're under? Not just work stress, but family stress, personal stress, and financial stress. There are so many factors," he said.
"We have to talk about it. And that's one thing I now express to our young folks. If you experience something that bothers you, we need to talk about it. Call me. I don't care if it's two o'clock in the morning, and you have an issue dealing with a crisis; call me. I will get out of bed, put my clothes on, and come to you, and we'll talk, because I never had that person in my career."
Poff's day-to-day goal is the same.
"One of the top things we're after as emergency service workers is to make life a little better every day for somebody. One of my biggest desires is to leave it better than I found it every day, whatever it is. Whether vacuuming the bedroom at the station or holding your hand and talking to you, giving you a sense of comfort, that's leaving it better than you found it."
We can leave things better than we find them, too. GN