AS WE emerge from the fog of the pandemic, we're searching to find balance in how we work today. We loved meeting in our pajama pants (for a while) and appreciated the flexibility of new work arrangements. Businesses and employees are now looking for a way to return to a more normal work arrangement while preserving the best of the last few years. 
We missed meeting in the breakroom and gathering around the water cooler. We sustained our cyber connections, but screens of faces failed to meet our need for personal interaction. There's a strength in coming together that can't be duplicated digitally.
We need the tools to bring our work into balance, and those tools exist in one place in Shelbyville's new Success Hub (SH).
SH owner Tracey Strassner knows a little about the power of connection. 
Strassner moved to Bedford County from Nashville in 2019 following her retirement from Asurion, a fast-paced tech company, where she managed teams in three time zones and lived on Zoom. When she relocated to Bedford County, she found herself unplugged and working harder than ever to make the connections she needed, personally and professionally.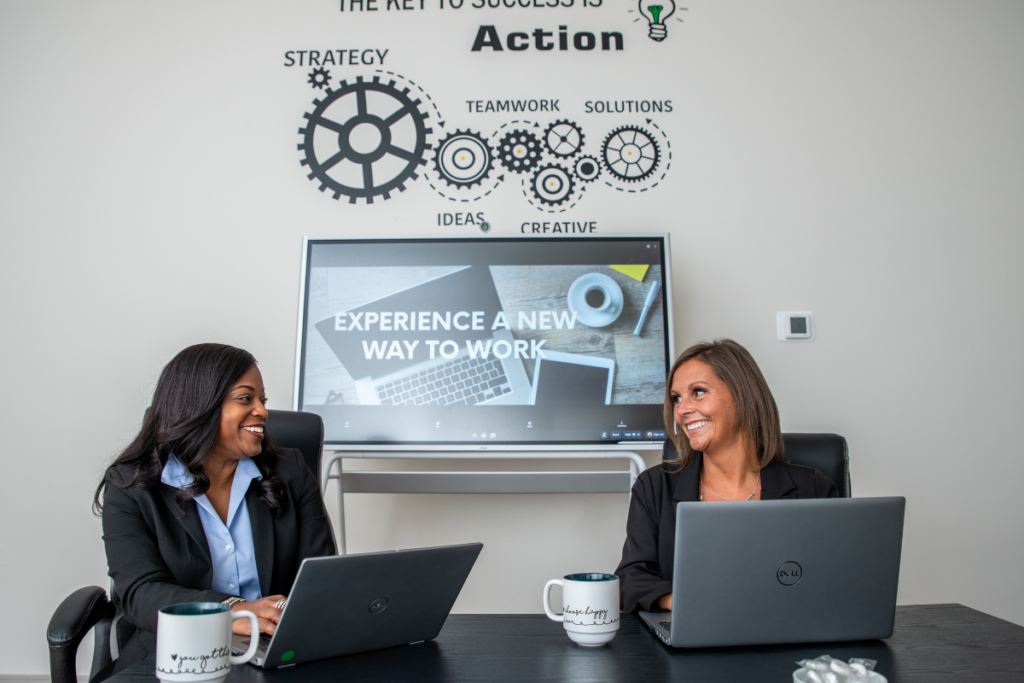 "I could appreciate the fact that people needed a place to connect and to have high-speed broadband. Our coworking space allows you to do just that. You can come in for a couple of hours and sit down and meet people and connect. But you can also have a place to pop in and connect to broadband," Strassner said.
She understands as much, if not more, than anyone, that business professionals benefit from new ways to work. Coworking and collaborative spaces are more than buzzwords; they are the key to a hybrid work model that allows us to come together and get away simultaneously.
Strassner said, "A lot of businesses that went remote now want to have that personal connection. They still want to have a place they can meet in person, but they may not need the traditional full office space. They may need a conference room for a couple of hours a month or a place where they can just get a different lens and view, sit down, and crank out work because there's a different creativity and vibe here than when working from home." 
SH is located just off the square at 207A Spring St. in what long-time residents remember as The Shoffner Building. The facelift it received, inside and out, creates a fresh, minimalist space to meet, connect, and create. It's where you can plug into your best professional life.
"It lets you be your best because you can focus better on what you're offering instead of how to go about it," she said.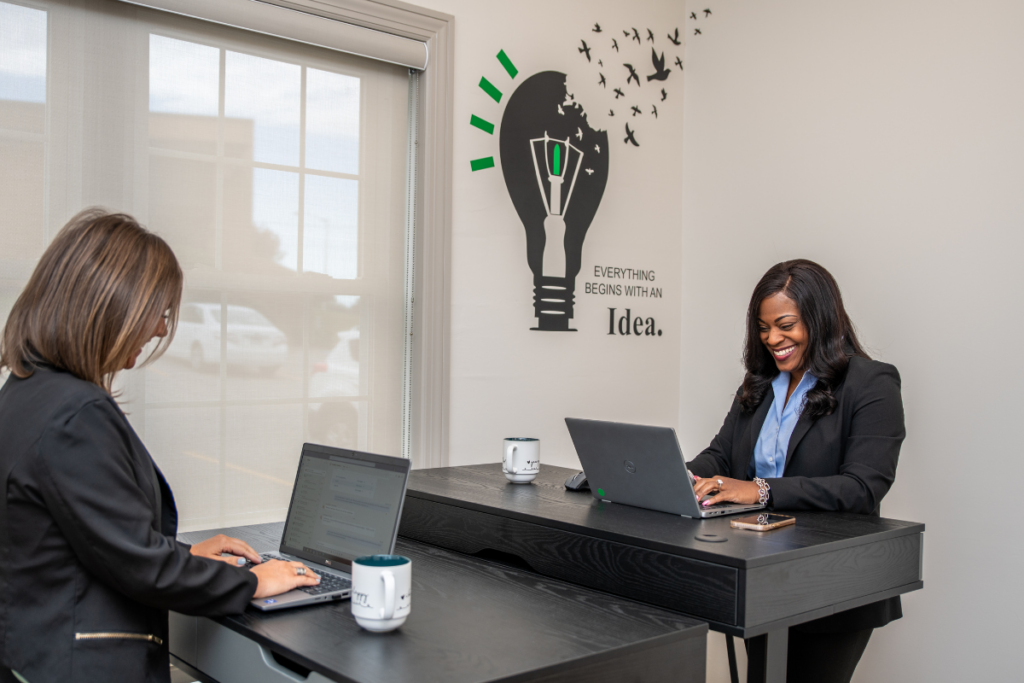 Connect To Technology
Want to get some work done? Step into the hub and plug in your laptop, tablet, or phone. You can choose one of two coworking spaces with stand-up or sit-down desks, chairs, or side tables. The light streaming through the windows energizes you, and the street noise and church bells are the perfect white noise. Are you an evening person? Enjoy the quiet ambiance of downtown and take advantage of the resources at the time best for you. Use the printer or copier as needed, and make yourself at home in the break area equipped with snacks and drinks.
Connect Your Ideas
The open spaces at SH leave lots of room for big ideas. Book the conference room and gather your team to brainstorm your next project. Use the Vibe Board to cast your online meeting or to join one. Upload your PowerPoint and present it to your group, or work together and use the board to track everyone's feedback. You can plan a retreat and get out of the office without traveling far to escape what interrupts your thinking.
Connect With People
Networking is a familiar idea, but networking through SH is a new way to increase your opportunities for success. Bring your people together to connect in the hub's spaces, but never underestimate the power of meeting someone new when you do. SH also offers sessions that educate and empower business professionals — the more you know, the more you grow. Find what you didn't realize you were missing in the face-to-face interaction with people again.
The Key To Connection Is Yours
There's a program that is right for your needs. Start with a tour on their website, in person or digitally, and brainstorm how the space works best for you. Already know? Sign up for a package and get to work. Want to start slower? Grab a punch pass and drop by when it makes sense to your way of working. Either way, the workspace is yours without the headache and expense of finding a full-time brick-and-mortar location.
The next time you want to meet a client, you don't have to find a quiet table in the back of the nearest chain restaurant. When the mountains of laundry and chaos outside your home office door scream for attention, you can trade desks and meet your looming deadline. Your next team meeting doesn't have to be in the same old conference room with thin walls and no windows.
The key to connection is yours. GN