Professor Edward Finley, the football coach of the championship Bedford County Training School Tigers from 1937-1949, claimed he didn't have any secrets to his success. In a 1948 article in the Nashville Tennessean, he disclosed, "Tackle anybody who looks like he might have the ball." At that point, they had already amassed a 60-game winning streak.
Samuel J.V. Abernathy played under both Coach Finley and then Coach Raymond Whitman. Abernathy recalls that both of the coaches had great natural talent, so they had high expectations for their team. They practiced and played hard. Beyond winning games, it was expected that you would make something of your life. If your grades didn't pass muster, you didn't play ball. Being a good person, getting along with your parents and siblings at home, and creating a goal for your life were all stressed as more important than success on the ball field.
During this amazing winning streak, there was very little press coverage. Records of the segregated black schools' sports teams were not well-maintained and there are discrepancies of how many games were won and how long shutouts continued. The lowest number of shutouts reported is 32 consecutive games with no points scored and no one crossing the 50-yard line. Other reports include 54 consecutive shutouts. For the winning streak, totals go from 78 to 82 wins with 4 ties. Regardless of what the actual numbers are, those accomplishments are impressive and deserve to be celebrated. As Marilyn Gipson Massengale, a cheerleader and 1952 graduate of BCTS said, "There's a movie here."
When asked about the biggest difference between high school football at BCTS and 2021, Mrs. Massengale and Mr. Abernathy agree that students today don't realize how many basic needs were not available to black athletes in the past. They didn't have access to the field's water fountains, re- strooms, or locker rooms. For many years transportation was a struggle and they would borrow cars or even ride in the back of a flatbed truck with a tarpaulin covering to reach away games. The BCTS athletes did not have a football field to practice or play games on. They practiced in a vacant lot not far from their school. Games were played on Thursday evenings at the Shelbyville Central High School (SCHS) field with the all-white team playing on Fridays.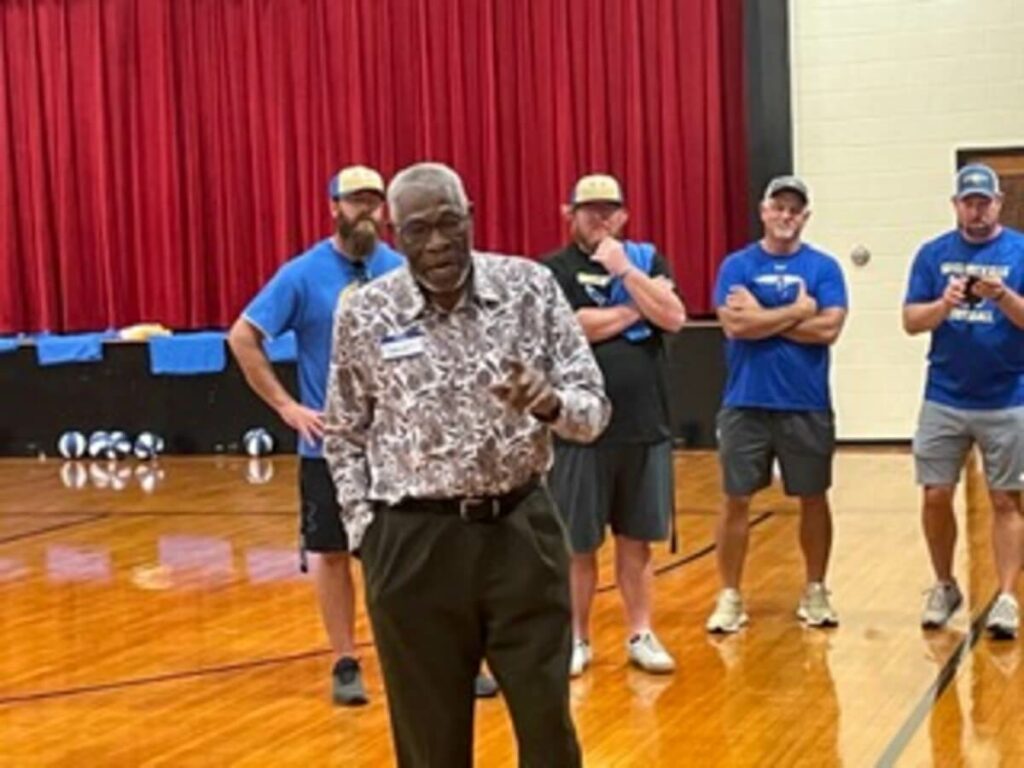 According to Mr. Abernathy, in a 2011 Chattanoogan article, there was respect and support between the two football teams. They would often play an informal game of football with no pads and helmets over the weekend. They would play hard and get a little bruised up but learned to respect each other's athletic abilities and sportsmanship in the process.
SCHS integrated with BCTS in 1967. Josh Puckett, the current head coach for SCHS, recognizes the importance of embracing and celebrating the history of the BCTS football team. Beginning in 2021, the SCHS football team will play one home game on a Thursday to hon- or BCTS. On September 3, 2021, they are erecting a sign recognizing the achievements of that remarkable team. As Coach Puckett said, "We're excited about shining a light on something our community should be more aware of and something that happened here that we're very proud of. We want everyone to know of their great history and the things that they accomplished." -GN